Childs Foods offers full-service catering and event planning for groups from 15 to 1,500 people. With more than 50 years of catering, restaurant and bakery experience, it provides excellent products, generous portions and personalized service at reasonable prices.

Childs Foods has been serving clients in the Saint John area since 1979. It employs 18 food-service professionals and maintains its production kitchen at 1216 Sand Cove Road in Saint John, New Brunswick. It's a well-respected family business that is loyal to its employees, suppliers and customers.
Childs Foods employs up to 18 staff members to maintain its production kitchen at 1216 Sand Cove Road in Saint John, New Brunswick.
COMPANY HISTORY
In 1896, William Alfred Childs left England after obtaining a Journeyman certificate in baking. After working his way to Canada on a freighter and landing in Saint John, he opened a successful bakery business on King Street West (near the current Tim Hortons site). His son Vincent continued the tradition, later opening a bakery off Union Street (now the Titus Bakery location).
In 1978, Vincent's son, Doug, and his wife, Betty, started Childs Catering. With their combined experience in the hotel industry, food and beverage, and camp management, they began a successful catering company, providing quality, home-style meals with friendly, personalize service.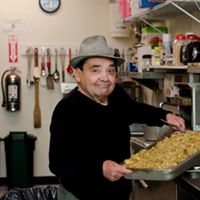 In 1998, Childs Foods, under the ownership of Doug and Betty's daughter, Deborah, and husband, Lee McCluskey, expanded into wholesale distribution. The company retails products, originating from its catering menu, in more than 250 grocery stores in Atlantic Canada under the Childs Foods brand. These products include Yorkshire puddings, potato croquettes, and beef and chicken gravies.

In 2010, Childs Foods expanded again to meet food-service needs at industrial and construction site facilities. Its clients include Irving Oil and Dexter Construction. It also partners with local hotel and specialty food retailers.
Today, Childs Foods continues to be innovative, meeting changing demands in the industry while remaining firmly committed to quality and service.